Description
25% Off – Best Turbo HD 8 Channel DVR System with 2 Mega Pixels 5 Security Camera Package – Complete Installation with 2 Years Warranty – Best Price in Sri Lanka..
Experience the gold standard in analog surveillance video that is second only to being there yourself. This HD DVR records video in real-time at 1080p HD on all 8 channels. Including fully-loaded 2 megapixel Turbo HD security cameras, this system uses standard Coaxial cabling to transmit stunning HD images for a surveillance experience like no other. Maintain vigilance with best-in-class image quality and view your world with new eyes.
---
Connect Easily Wherever You Are – Hik-Connect  Cloud apps for smartphones & tablets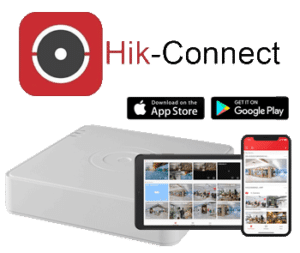 Hik-Connect Mobile Software has been designed to help small businesses effectively operate and manage security devices from a smartphone or tablet. The power to view live images, play back footage, and receive notifications remotely keeps owners and operators in touch with their business, even when away.
Works With

The Hikvision Turbo HD DVR is bundled with 1080p wired HD bullet cameras that provide superb surveillance footage both day and night. The cameras are ideal for indoor and outdoor applications, with a fully weatherproof, polycarbonate housing that stands up against intruders and the elements. See it all, day and night, with best-in-class low light clarity, close up recognition in the dark with Smart IR, and an impressive night vision range of up to 75ft (25m).
---
Record to the security grade 100% duty-cycle hard drive designed for surveillance, providing weeks or even months of reliable video. Customize the recording settings to fit your needs. Record at 1080p HD (1920×1080) for the highest resolution, or change the settings to a lower resolution for extended recording time.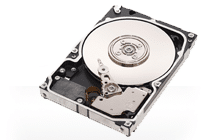 ---

---
High Definition 1080p Security Digital Video Recorder Features: DS-7108HGHI-F1
8 channels and 1 HDD Port mini size DVR
H.264+ / H.264 video compression
Encoding ability up to 1080p lite @ 25/30 fps
5 signals input adaptively (HDTVI/AHD/CVI/CVBS/IP)
24/7 security-grade hard drive
Continuous, scheduled and motion recording
Click and drag digital zoom in live view and playback
2 video outputs (HDMI & VGA) to connect multiple monitors
Instant USB backup of live video from selected camera
Advanced apps with live viewing, playback, video recording, and snapshot
High Definition 1080p Security Camera: DS-2CE16D0T-ITPF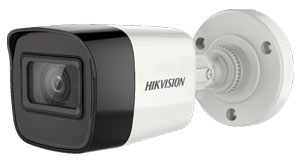 High definition 1080p image sensor – 2 MP, 1920 × 1080 resolution
Infrared cut filter ensures accurate color representation
85° field of view
Night vision range up to 75ft (25m)
Anti-glare feature ensures clear images under strong lighting conditions
Weatherproof for outdoor & indoor installation (IP67 Rated)
Close up recognition in the dark with Smart IR
Vandal resistant design with cable pass-through bracket
Lightweight and durable polycarbonate housing
Versatile ceiling or wall mounting options
Residential and business friendly compact design
---
What's Included on This Package?
Hikvision 8 Channel 1080P Turbo HD DVR Model-DS-7108HGHI-K1 – 1 Nos
Hikvision 2MP Turbo HD Cameras Model-DS-2CE16D0T-ITPF – 5 Nos
1TB Surveillance SATA Hard Disk Drive – 1 Nos
12V- 10Amp Power Supply- 1 Nos
50 meters 3C2V Video Cable with Power Cables and hardware Items (Trunking/Conduit/Flex/Screws,etc) for 50m Installation
Installation and Commissioning :
This package included 50 meters of cable with hardware installation, if exceed of 50 meter cable installation length additional pay for Rs. 580.00 (per meter) Cabling will be calculated per meter basis – Include with 3C2V 100% copper 75 Ω coaxial jelly field video cable, Kelani / ACL twisted twin 0.5mm power cable, pvc casing, upvc conduits, screw and nails, wall plug, blank plate, wire tie, wiring tape, flexible conduit, labour charge.
Internet connection to be provided by customer at installation site
Existing TV or Monitor can be used as display unit
For further information and clarifications on CCTV Package Components please call us on 0773 387697
Warranty & After sale service :
Two (02) years warranty for DVR, Hard Drive and Camera's against manufacturing defects.
ENERGY CCTV SECURITY CAMERA SOLUTION –  Office hours:
Monday – Friday: 9.00 AM – 5.00 PM | Saturday: 9.00 AM – 2.00 PM | Sunday/ Poya Day: Closed
---
Videos:
---
Links: