Description
Best Hikvision AX Pro Series DS-PWA64-Kit-WB Alarm System 25% Off Sri Lanka with 2 years warranty..
At Hikvision, we believe that innovation results in products that can do more while becoming simpler to use. The AX PRO System is the perfect example – it's an incredible new design that combines the powerful and reliable security systems of the past with the simplicity of tomorrow's best technology.
AX PRO is both conventional and revolutionary, with proven wireless stability, a wide range of world-class products, and ease-of-use for both installers and end users. Simple setup, powerful protection – whether it's for a business-owner's property or a home-owner's loved ones – bringing peace of mind every day, all day.
AX PRO Kit (433MHz)
· DS-PWA64-L-WB x 1
· DS-PKF1-WB x 1
· DS-PDP15P-EG2-WB x 1
· DS-PDMC-EG2-WB x 1
---
Key Feature
● TCP/IP, Wi-Fi, and GPRS/3G/4G network
● New generation wireless protocol: Tri-X/Cam-X
● Long RF transmission distance
● Two-way communication with AES-128 encryption
● Connects up to 64 wireless zones/outputs (including 48 PIRCAMs), 48 wireless keyfobs, 2 repeaters, 4 sounders, 8 tag
readers & keypads.
The capability varies according to the model of device.
● Supports up to 48 network users, including 1 installer, 1 administrator, and 46 normal users
● Voice prompt
● Configuration via Web client, mobile client, and Convergence Cloud
● Hik-Connect and Hik-ProConnect configuration depends on the user access level
● Pushes alarm notification via messages or phone calls
● Views live videos from Hik-Connect
● Alarm video clips via emails and APP
● Uploads alarm reports to ARC
● Supports LED indicator to indicates system status
● 4520 mAh lithium backup battery
● SIA-DC09 protocol, and supports both Contact ID and SIA data format
● Supports Hik-IP Receiver and Hik-IP Receiver Pro for ARC communication

Introducing the AX PRO system
The AX PRO system begins with a control panel that acts as a for the whole system. Next, a wide range of indoor and outdoor detectors, along with versatile peripherals including sounders, repeaters, relays, and more, are designed to meet the needs in a multitude of scenarios. Revolutionary in both technology and design, all the products in the range can be added as needed, and can be flexibly linked with other Hikvision devices. Each one is simple to install and promises outstanding performance.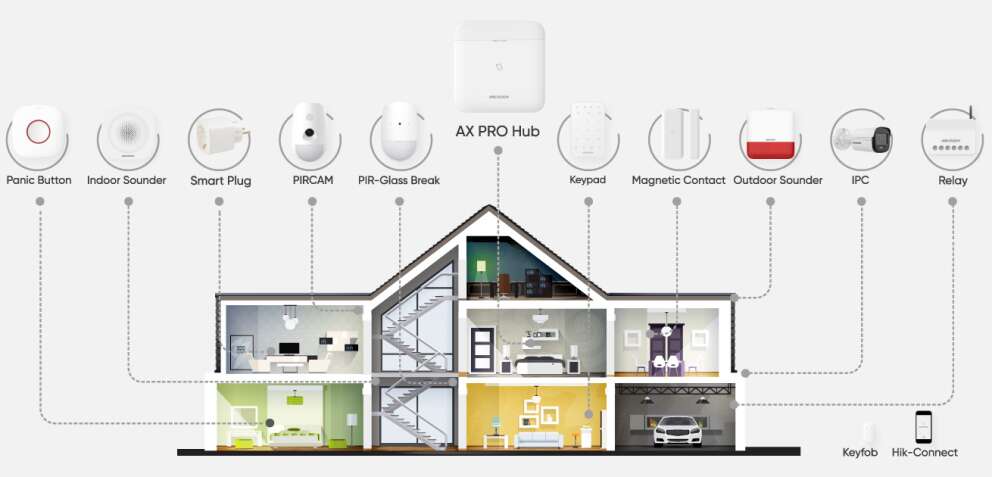 Easy operation using the mobile App
With AX PRO, the power is in your hands. You can manage the whole alarm system easily via Hik-Connect and Hik-ProConnect Apps. The convenient, user-friendly interface boosts efficiency, with the option to receive notifications whenever an incident occurs. Fast response from installers and 24/7 cloud service combines to create the most professional experience.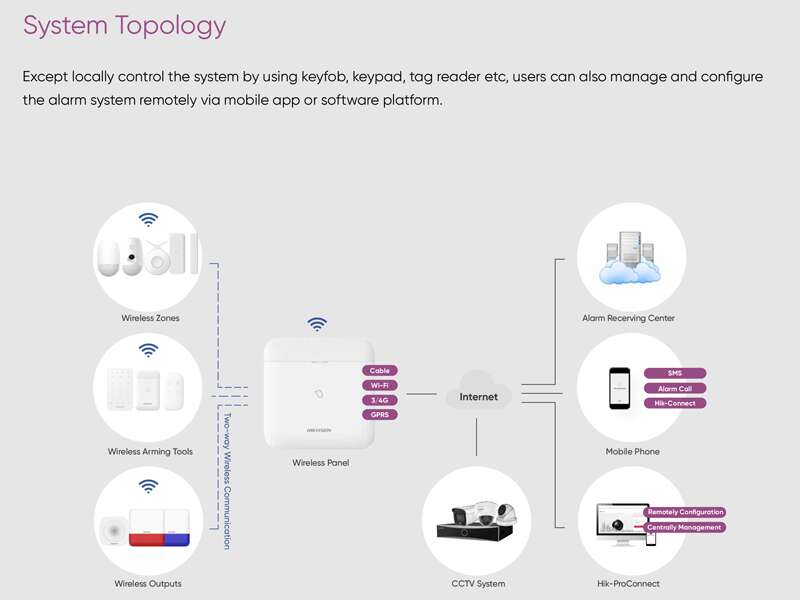 ---